Economy
London – St Kitts
Premium Economy
London – St Kitts
Business Class
London – St Kitts
About St Kitts & Nevis
St Kitts is a truly beautiful island, once the oldest of the English colonies of the Caribbean and boasting a lushness born of its volcanic formation. The highest of the peaks in St Kitts is Liamuigia, an extinct volcano measuring 3,792 feet. Liamuigia was the original name for the island and translates as 'fertile land', a perfect description for this tropical paradise. St Kitts is now the only Leeward island of the Caribbean that still grows sugar cane, once one of the biggest industries of the West Indies, while the colonial past of St Kitts gives this island a beautiful quality, found in the old colonial plantation homes that are now beautiful inns. St Kitts is only sixty-nine square miles and is largely unspoilt by big development, with towns remaining small, un-crowded and very welcoming for the visitor who wishes to relax in a paradise setting. The beaches of St Kitts are also stunning, and for anyone wishing to experience the sheer beauty of the Caribbean, St Kitts is the perfect destination.
Neighbouring, the Enchanting Island of Nevis, there's something about this small, sombrero-shaped island that grabs you. The charm and tranquillity take you back to a time when things were simpler when life was more peaceful when stress was just a word, not a way of life. This 36-square-mile island lies near the top of the Lesser Antilles archipelago, about 200 miles south of Puerto Rico, and just west of Antigua. This island jewel is approximately 7 miles long and 5 miles wide, with natural vegetation that is unparalleled. Green and serene, Nevis is truly one of the remaining unspoilt places and proudly carries the name, "Queen of the Caribees." From the top of the 3,232-foot Nevis Peak to the depths of the clear waters offshore, there is a world of flora and fauna to be explored. In the hills, the comical green vervet monkeys chatter and scamper; in the sea, the whales cruise by. Stroll around and see the architecture of eras gone by churches, windmills, and refurbished Great Houses. Its 10,000 residents are friendly and helpful, ready to make new friends and welcome back regular visitors. The genuine charm and hospitality radiate into the unspoken, "Welcome," "Be my guest," and "Do come again." Nevis is special, a place that will seduce you, and tug at your heartstrings after you leave. Like they say on Nevis: "You're only a stranger here once."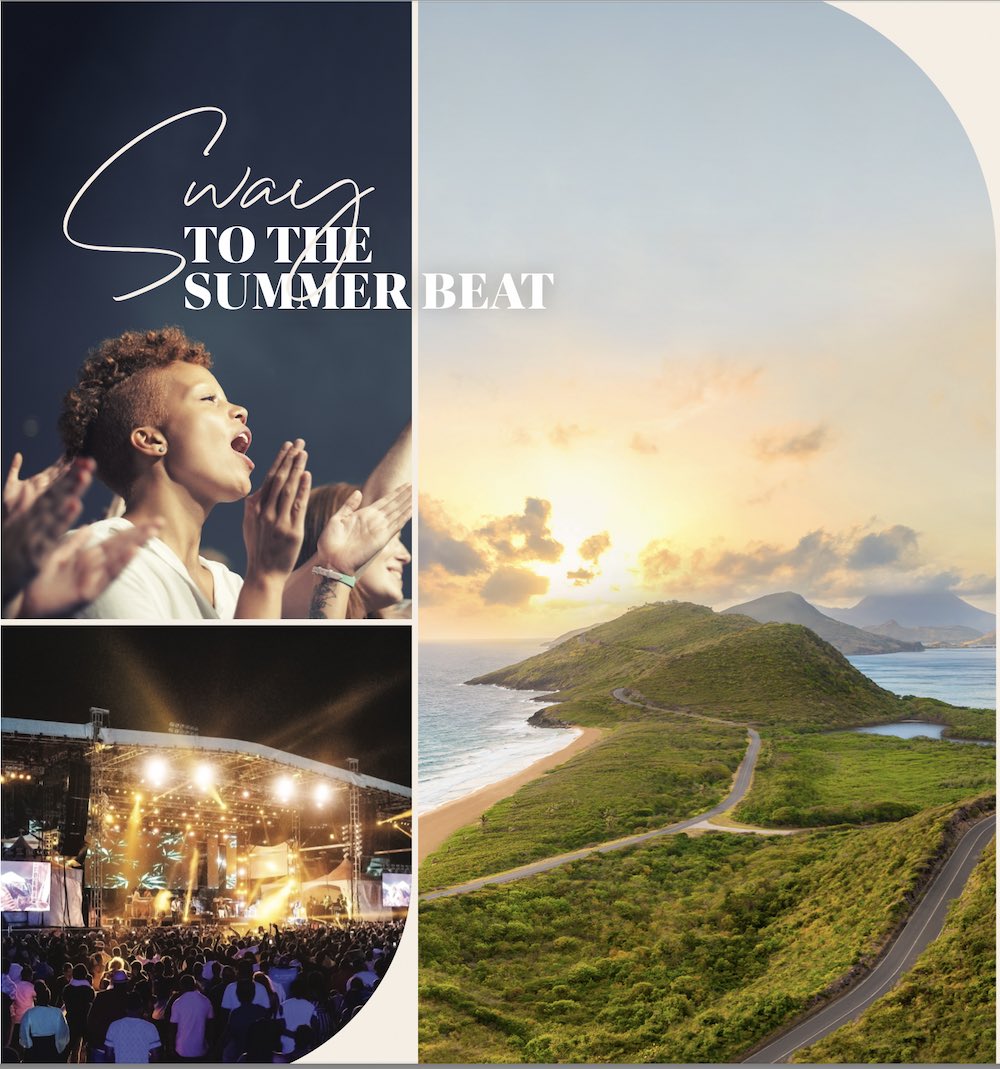 FREE 3-NIGHT TICKETS
TO THE ST. KITTS MUSIC FESTIVAL
Over the years, the St. Kitts stage has welcomed global icons Lionel Richie, Ashanti, Aswad, Maxi Priest, Goo Goo Dolls, and more—and this year's lineup is sure to be just as impressive.
Join us in St. Kitts for three irresistible summer nights of calypso, soca, R&B, and reggae. Travellers arriving for the music festival can enjoy free 3-night festival tickets, return flights from London Gatwick with British Airways, 7 nights accommodation from 21 – 28 June with daily breakfast, and return airport transfers from £1,065 pp* when booking with Sackville Travel
TO BOOK, CALL 020.7274.2242
VISITSTKITTS.COM
SACKVILLETRAVEL.COM
*price is subject to change based on availability
Things to do in St Kitts & Nevis


Golf – Both the Royal St. Kitts Golf Club and Robert Trent Jones II Course on Four Seasons Golf Club boast breathtaking ocean views and mist-shrouded peaks

Scuba Diving – offering glorious underwater world, with many sites virtually unexplored. Bordered by the Caribbean and the Atlantic, the island offers a range of options, from near-shore reefs to subaquatic caves.

Brimstone Hill Fortress– Known as The Gibraltar of the West Indies. This is also a UNESCO World Heritage site.

Day trips to Nevis – St Kitt's sister island is home to brightly coloured houses, historical stone churches and plantation homes. Mountains that rise far above the clouds and a circle of gorgeous sand beaches complement the 18th-century charm of Charlestown, the island's only town.

Romney Manor– A Former 17th-century sugar plantation, Romney Manor is one of the island's most attractive estate houses and is known for its magnificent gardens.

Caribelle Batik – A local artisan's centre at Romney Manor where artists work with locally grown, exceptionally fine Sea Island cotton, producing tie-dyed batik and hand painted creation of all sorts.
St Kitts & Nevis Weather: Annual Averages

Start your journey here…
Kindly leave your details below, a member of our team will contact you to discuss your travel options.