 Premium Economy
London – Jamaica
Business Class
London – Jamaica
About Jamaica
Jamaica is the third largest island in the Caribbean. Jamaica being famous for its laid-back pace of living is the ideal holiday location to relax and unwind. The rolling hills of Jamaica contrast with steep gullies and the towering Blue Mountains beg to be explored.
Dunn's River Falls is also breathtaking – both the view and the climb! The island's strong musical culture is everywhere – Bob Marley's legend and music really do live on here – do visit Nine Mile – his birthplace. Montego Bay is the best resort to be in if you like it lively with bars pumping out reggae onto the streets. Negril is more laid-back, spread out along a beautiful 7-mile stretch of golden beach. Ocho Rios is a world-class destination. Larger than Negril, its duty-free shopping is very popular and it's well located to visit all the major attractions.
Appleton Estate Rum Tour
Appleton Estate Rum Tour gives the visitor an inside look at the rum making process. Visitors watch resident donkey demonstrate how juice was extracted from sugar cane in the 18th century. From there the tour takes visitors to the Distillery & Aging House where the different methods of distillation are shown. Visitors are then able to juice their own cane and sample white rum.
Bob Marley Mausoleum
Birthplace and final resting place of reggae legend, Robert "Bob" Marley. Visit the humble beginnings of this superstar in the hills of St. Ann. Chances are, you may meet Bob's mother Cedella Booker, or some of his old friends on your visit.
Rafting on the Martha Brae
Rafting on the Martha Brae is Jamaica's premier rafting attraction. A skilled raft captain on a 30ft. bamboo raft takes visitors on a romantic adventure into the scenic and tranquil beauty of the island. This unique experience encompassing over 3 miles of beautiful and picturesque river should not be missed by any visitor.
James Bond Beach
Located just 20 minutes from the hustle and bustle of Ocho Rios James Bond Beach is spectacular, beautiful beaches surrounded by crystal clear water on three sides and an amazing backdrop; the lush mountains of St. Mary reaching straight down to the sea. James Bond Beach is well known for the fabulous fresh fish and seafood served at the two-story Moonraker "Jamaican" Bar & Grill. The fish is so fresh we let you pick which one you want to eat! If you are looking for a little excitement James Bond Beach also offers the ultimate…..Guided Waverunner tours. The tours ride past the famous Golden Eye, where Ian Fleming wrote the James Bond novels then on to pass UB40's home and some of the most breathtaking views that can only be seen on a personal watercraft.
Y. S. Falls
YS Falls is a nature-based attraction nestled in the foothills of the cockpit country of St. Elizabeth. Enjoy an intimate experience with a spectacular 7-tiered waterfall surrounded by lush vegetation. A tractor-drawn jitney takes you through a working thoroughbred horse and cattle farm to the hidden valley – home to the waterfalls. Indulge yourself in a "natural pool" fed by underground and above ground springs.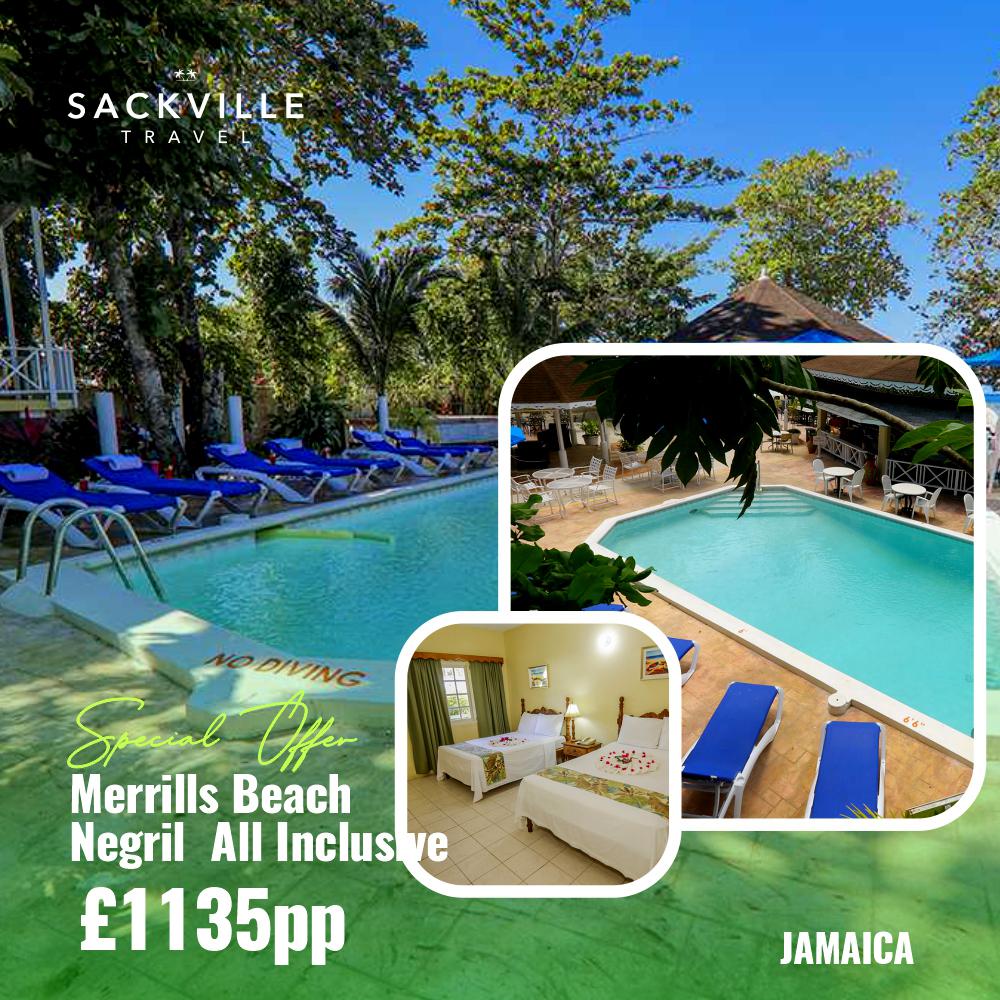 Merrills Beach Negril
Our properties feature lush tropical gardens with cozy, quiet, air-conditioned rooms, all with ceiling fans and hot water. This is further complemented by our delicious full buffet meals and clean, white sand beaches; which forms part of the world famous seven miles stretch of beaches in Negril.
£1135pp B & B
All Inclusive Resort Ocho Rios
Our warmth, personalized service, laid back atmosphere, continues to engage the loyalty of many, as we have shared many great, memorable moments with our supportive , loyal guests , indeed our extended family !
£1135pp All Inclusive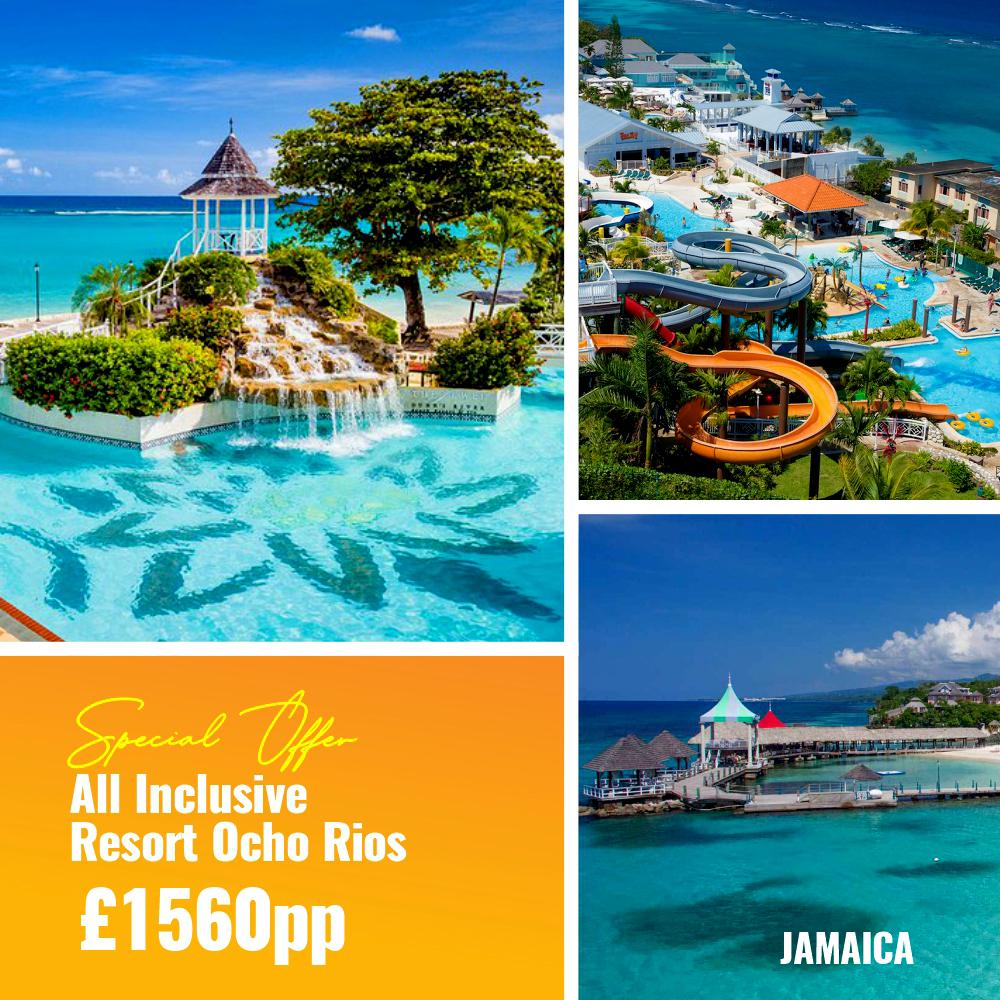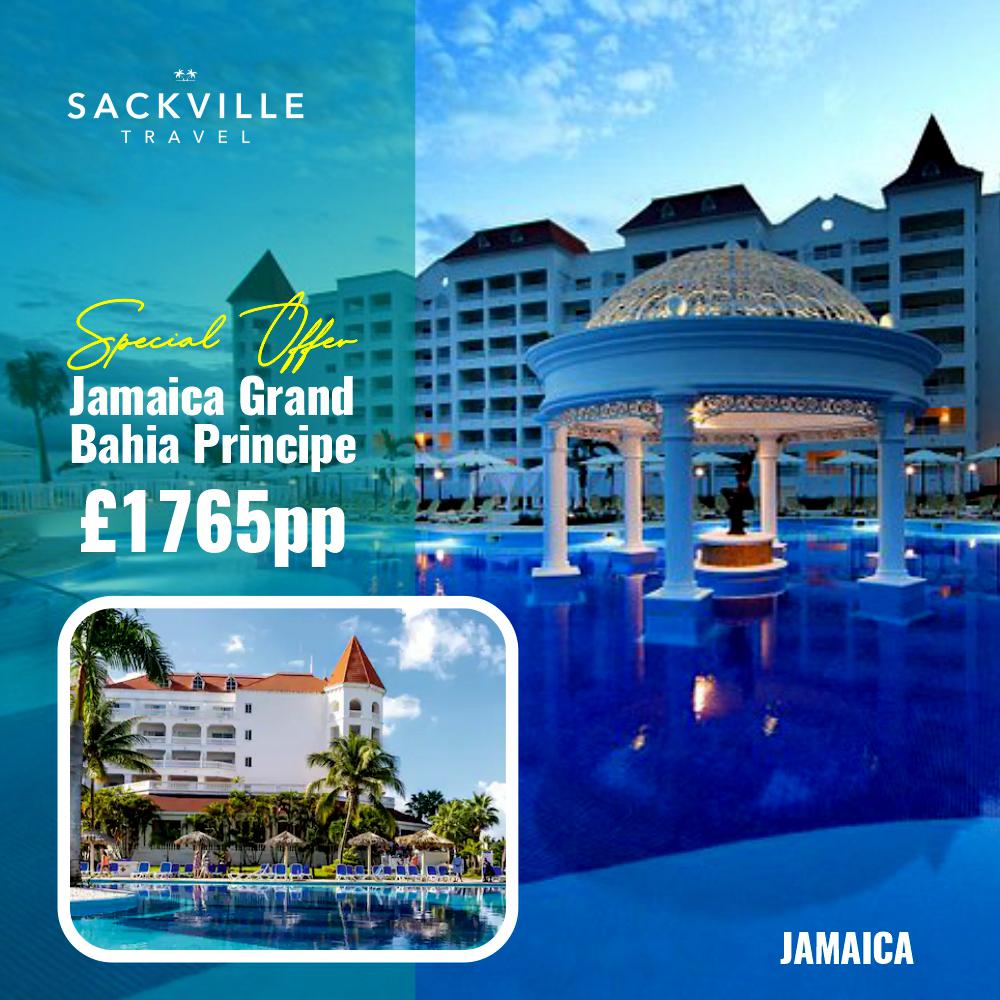 Jamaica Grand Bahia Principe
If you are looking for a little extra on your trip to the Caribbean in the form of exclusiveness, special services and exquisite attention, these are your hotels. You will enjoy different privileges such as unlimited à la carte dinners or spacious and fully equipped rooms. And if you want to relax even more on your holidays, enjoy our exclusive butler service!
£1765pp 
Jamaica Weather: Annual Averages

Start your journey here…
Kindly leave your details below, a member of our team will contact you to discuss your travel options.