About Mystique St Lucia by Royalton
Mystique by Royalton are contemporary, luxurious, and exquisite boutique resorts firmly rooted in some of the world's most vibrant destinations. Poised to attract luxury travellers seeking to explore a natural paradise.
Guests will feel miles away from their routine as they are immersed in breathtaking surroundings – Mystique Resorts are a true escape from the ordinary. Find inspiration and relaxation with sweeping vistas and soft sand beaches or explore cultural hotspots and wild jungles – Mystique by Royalton is the ideal choice for unique and exclusive vacations in untouched paradises.
Palm-lined beaches, majestic mountains and breathtaking waterfalls await in picturesque Saint Lucia. Home to exotic landscapes including the famous Pitons and the world's only drive-in volcano, this small island is a Caribbean gem. From hiking through the jungle to snorkelling in the bay, there are endless opportunities for travellers to explore Saint Lucia's natural beauty.
Nestled on the white-sand shores of Reduit Beach and overlooking the sparkling waters of Rodney Bay is Mystique St. Lucia, offering vacationers a serene tropical getaway with luxurious accommodations and convenient amenities (all-inclusive option available).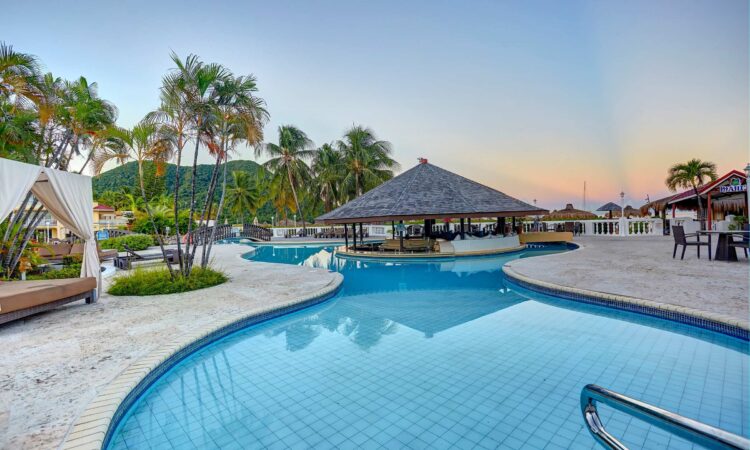 Book by 15 June & save over £150 per person
Experience one of the newest Royalton Mystique Resorts in the magical lush surroundings of St Lucia.
In the heart of Rodney Bay this beachfront property boasts amazing Sea Views
With newly refurbished suites, artful choice of cuisine with 5 dining experiences,  set against the backdrop of the Caribbean Sea, water sports, fitness centre, central location you will have a well earned enjoyable experience.
Prices start from £1199 per person
For travel 29 August – 31 October 2022
Price is based on 2 adults sharing  & includes return flights with British Airways & 7 nights stay in a Deluxe Junior Suite on a Room only basis
Room Facilities
Air Conditioning
Balcony/Terrace
Hairdryer
Television
Safety deposit box
Tea/coffee maker
Telephone
Soda, Water & beer in the fridge on arrival
General Facilities
An all-inclusive resort for couples and families.
Children's facilities available – Children's club for ages 4-12 years
Wedding ceremonies
Honeymoon destination
Evening entertainment at the hotel
Number of bars – 1
Number of lounges – 1
Number of restaurants – 3
Number of rooms – 104
Boutique and souvenir shops
Sports and Health/Spa Facilities
Gymnasium
Motorised sport

(Extra charges apply)

Number of pools – 1
Non-motorised sports
Scuba diving

(Extra charges apply)

Horseback Riding
Snorkelling
Sunfish Sailing
Tennis
Spa
Additional Information
Complimentary* or $849 USD. Includes 10 guests. Additional Adult Fee (13+) – $20 USD per person. Additional Child Fee (4-12) – $10 USD per person. *Complimentary if booking a minimum 7-Night stay in a Seaview Deluxe category or above. Mystique Wedding Package wedding package can be purchased for $849 USD if the couple does not meet the requirements stated above.
Dress code for resort restaurants:
Resort casual: Casual clothing including shorts, tank tops and sleeveless shirts
Not permitted: Bathing suits, wet clothes and cut-off shirts/shorts
Start your journey here…
Kindly leave your details below, a member of our team will contact you to discuss your travel options.